M.S. Plastics & Packaging Company Inc. has been serving customers since the early 70's. Our industrial products include stretch film…. hand wrap and machine wrap …as well as unique dispensing devices and systems which are designed and produced in Butler, New Jersey. Printed stretch wrap is our newest specialty. We offer solutions for your specific packaging and shipping needs.  All of are films are recyclable and most are proudly produced in the USA.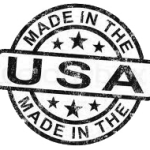 Our products are made in the USA, and
we are proud to provide recyclable products.
---
Our Facility